Dave Horlick's Home Page
---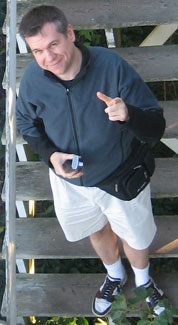 Dave Horlick
Here's a bunch of stuff I've made, and links to friends and other interesting things.
---
Astroimaging
Dave Horlick's New Astroimaging Gallery
I wanted to start copying my astroimagery (and context!) off the bird site, and decided to take the opportunity to restack, reprocess and label some of my favorites.
Posted: 2023-01-09T22:00:00

Hyattsville Astronomy Club's Solar System Gallery
A gallery of our best solar system images, including a recent one of Jupiter processed from video taken in my back yard.
Posted: 2014-03-09T13.28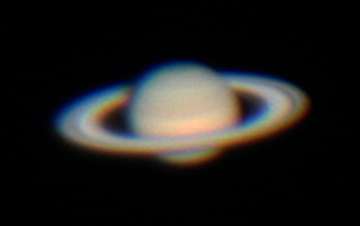 Saturn from Hyattsville, Maryland on 2013-07-17 at 10:16 PM local time.
Stacked from 129 frames obtained by my brother and I using a 3x Barlow on our 254mm Dob, and a Canon EOS Rebel T3i camera in "3x digital zoom video" mode.
Posted: 2013-07-19T00:40:00
---
Devices & Crafts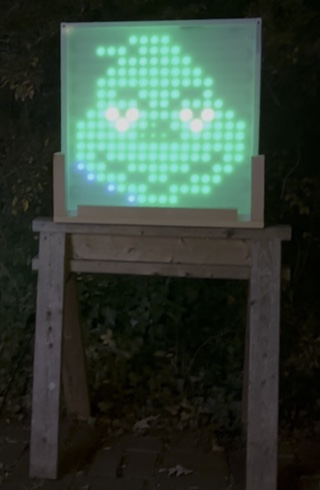 Holiday LED Array
I used WS2812B LED strips, a Teensy 4.0, plexiglass, wood, plywood, deck screws, lots of glue, Aseprite & custom Lua/C++ code. It's largely a customization of makeuseof's "Weekend Project".
A successor to LED Array Projector, which was increasingly out-competed for brightness in our holiday display by our "Candy Cane" tree.
Posted: 2023-11-28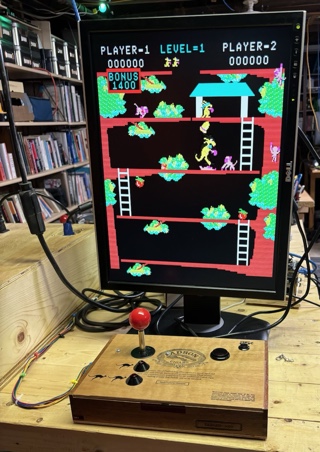 Consolized Kangaroo Arcade PCB
I built a tiered wooden case for a classic Atari Kangaroo arcade PCB circuit board. I installed a power supply, a speaker and a GBS-8200 video converter, modded for custom gbs-control firmware. Then I built a controller into a cigar box and wired everything into a custom JAMMA adapter. Works great!
Posted: 2023-11-13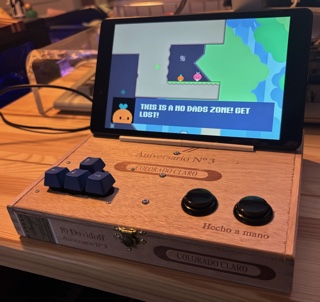 Mobile Gaming Dock
Features an adjustable, angled stand that accommodates a phone or mini-tablet, connected over an OTG USB cable. The arrow keycaps are mounted to clicky Alps switches. It's powered by a Raspberry Pi Pico running GP2040-CE firmware.
Posted: 2023-11-13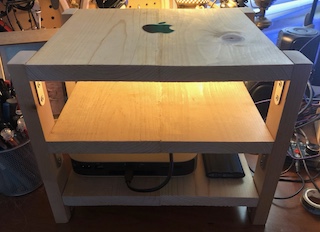 Meta-Tower v2.0
A wooden tower for a Mac Mini and assorted peripherals.
Posted: 2023-11-13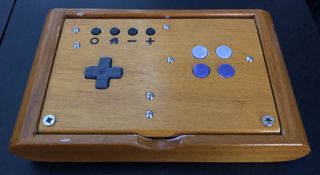 Wooden D-Pad Controller
A DIY, clicky, wired USB D-Pad controller. Works well on Nintendo Switch Online classic games, but since it only has an upper set of trigger buttons, there's no temptation to rewind your game and cheat.
Posted: 2023-04-27T00:00:00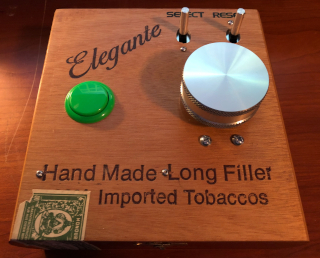 Paddle Game Controller
I built a new game controller for paddle games from a cigar box, a GRS Arcade Spinner for Arcade1Up, some reclaimed Atari 2600 swipe switches and a Teensy LC.
Posted: 2023-01-09T22:01:00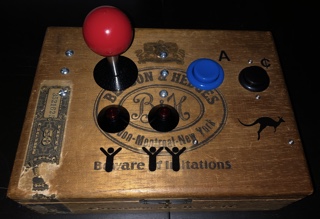 8-Way Arcade-Style Game Controller
Plays video games over USB with an 8-way joystick. There's an action button, plus buttons to insert virtual coins and start one or two player games. LED's in the start buttons turn off and on depending on how many credits you have!
Posted: 2022-12-14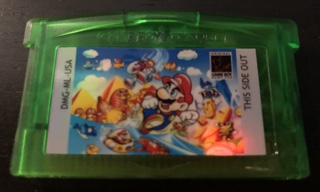 GB/A Super Mario Land Cart
A Game Boy Super Mario Land flash-PCB transplanted into a Game Boy Advance cartridge shell, so that it can be played on a GBA SP (which front-loads carts) comfortably. I epoxied-up the "GBA" groove on the cartridge so the correct, safe voltage would be applied to it.
Posted: 2022-12-02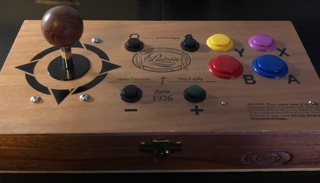 Guardabarranco Arcade-Style Game Controller
Plays video games over USB with a 4-way joystick, a lot of buttons, and two touch-sensitive shoulder sensors!
Posted: 2022-11-13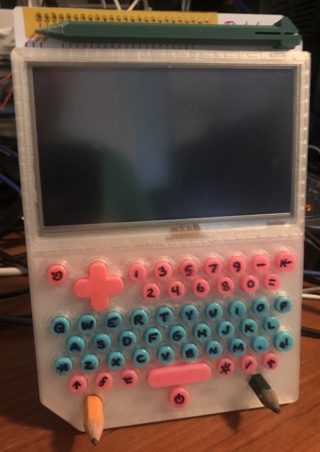 Legend-ary Keyboard for PocketC.H.I.P.
Had a keyboard 3D-printed for my PocketC.H.I.P.! I hand-wrote legends on the keycaps in permanent marker. Then I super-glued over them, to prevent wear. Also added a couple strips of Kapton tape so I don't accidentally short everything out.
Posted: 2022-07-29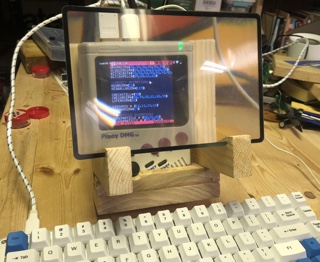 PiBoy-via-Brazil Cyberdeck-alike
A wooden frame holds a PiBoy DMG at a comfortable viewing angle, while a Fresnel magnifier makes text readable. The result is a portable computer that's smaller than a laptop, can be disassembled to play retro-games using classic controls, and can be re-charged over 5V USB (See below!)
Posted: 2022-07-18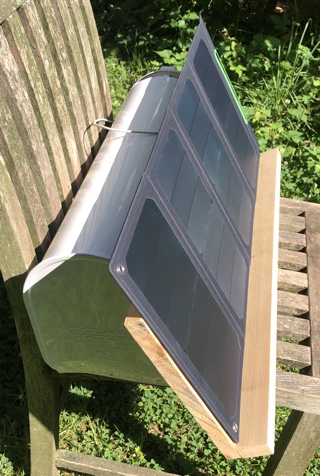 Low-voltage Solar Station
Harnesses the power of Earth's sun to re-charge phones/etc. nestled snug & dry in a mailbox. Super-sophisticated sun-tracking mechanism: pick it up and move it!
Posted: 2022-07-17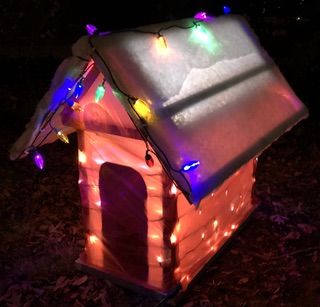 Luminous Replica of Snoopy's Dog House
A wooden frame lined with LED holiday light strings, then wrapped with translucent vinyl and quilt batting.
Posted: 2020-12-27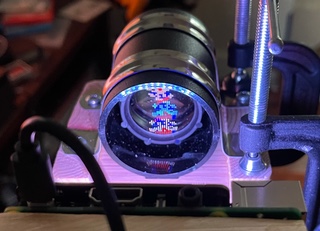 LED Array Projector
Made from a Raspberry Pi B+, a Pimoroni Unicorn Hat HD, and a Ektanar slide projector lens.
Posted: 2020-12-26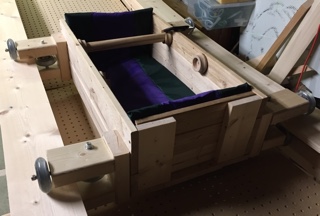 Kid Coaster
I built a working roller coaster segment in the basement!
Posted: 2019-04-04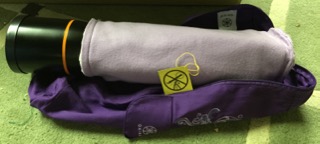 Telescope Cozy
For my Celestron NexStar 102SLT Refractor. The whole setup fits comfortably within a $20 Gaiam Yoga mat bag!
Posted: 2015-06-26T00:00:00-04:00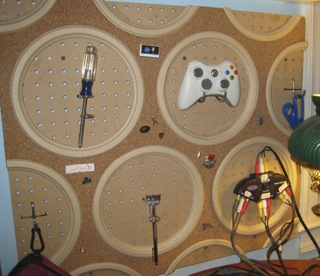 TARDIS Roundel Combination Peg-/Bulletin Board
for the style and utility-conscious Time Lord!
Posted: 2013-05-28T00:00:00-05:00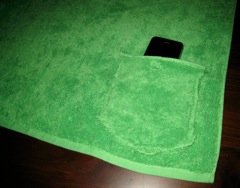 Galactic Hitchhiker Towel
I bought two "Prepster" Green bath towels at Target and cut pockets out of one of them. I sewed them into the other, added buttons with button holes, and Presto, a towel to hold my sunglasses and copy of The Hitchhikers Guide to the Galaxy.
Posted: 2009-08-31T00:13:00-05:00
Updated: 2010-01-30
---
Cakewalk
If I'd known you were coming, I'd have baked a cake.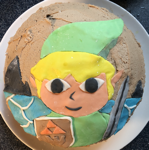 "Wind Waker" Link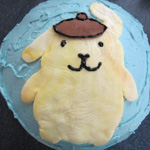 Pompompurin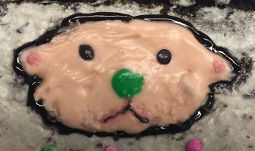 Sea Otter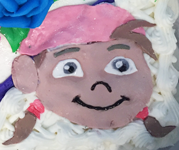 Izzy the Pirate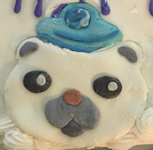 CAPT. Barnacles Bear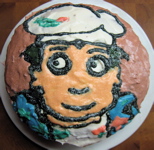 Ben Katz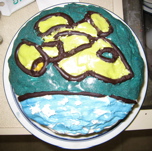 Serenity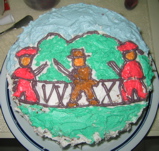 Temple of Doom Rope Bridge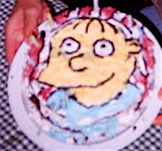 Ralph Wiggum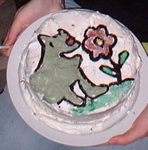 Cat Eating a Flower
---
Comics & Visual Arts

My Excellency, George Washington
The Founding Fathers are back, as robots.
Posted: 2010-06-17T00:00:00-05:00
DeviantArt page: My assembled visual artwork at DeviantArt.com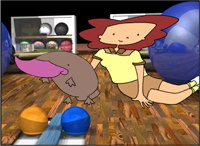 Sandals
Three semiaquatic animals investigate their neighborhood/universe.
Updated: 2008-02-02T15:04:00-05:00

Gerard Gazelle
My comic strip from the Cornell Daily Sun
Updated: 2010-08-17T00:00:00-05:00
---
Movies

Action Puppet Theater #1
A short movie made in partnership with my brother.
Posted: 2011-05-29T20:26:00-05:00
A large raft of sea otters in Monterey Bay, California.
Posted: 2011-04-28T20:26:00-05:00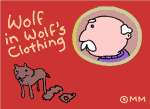 Wolf in Wolf's Clothing, Segment 1
A short animated movie. (Flash Player or Quicktime 4+ required)
---
Software
Interactive Fiction

GATOR-ON, Friend to Wetlands!
Will you be able to save the Florida Everglades from a giant robotic python? Requires a z-code intepreter (macOS | UNIX | Windows).
Posted: 2009-11-16T00:01:00-05:00
Desktop Applications

Spirited Array
A macOS application for de-pixelating and then whimsically re-pixelating small animated GIF's. (Warning: no longer works on latest macOS version)
Posted: 2018-08-07

Balloonist
Draws vector-based panels and word balloons of varying rectangularness, plus curved stems and merged ovals. For comics!

Screen Rodeo
An ancient Mac OS Classic game, similar to Surround! for the Atari 2600 console. Works on Mac OS X 10.4 and earlier.
Command-line Programs
Round-robins input MIDI notes to output channels 1, 2 or 3. That achieves polyphony on trash80/Ym2149Synth from a MIDI keyboard.
Posted: 2022-11-14

Bookstract
Makes tiny pictures of the structures of text documents.
A program to solve that awful dinnertime triangle game with the pegs. Now can solve Peggleboz from Zork Zero, too! Was demoed at the April 2012 meeting of Scala DC.
    o          *          *          o          o          o          o    
   * *        o *        o *        o o        * o        * *        * *   
  * * *      o * *      * o o      * o *      o o *      o o o      o * o  
 * * * *    * * * *    * * * *    * * * *    o * * *    o * * o    o o * o 
* * * * *  * * * * *  * * * * *  * * * * *  * * * * *  * * * * *  * o * * *
           (2,2)->NE  (2,6)->W   (0,4)->SE  (3,1)->NE  (3,7)->NW  (4,2)->NE
                                                                           
    o          o          o          o          o          o          *    
   * *        * *        * *        * o        * o        * o        o o   
  o * o      o * o      o * *      o * o      o * *      * o o      o o o  
 o o * o    o o * o    o o o o    o o o *    o o o o    o o o o    o o o o 
* * o o *  o o * o *  o o o o *  o o o o *  o o o o o  o o o o o  o o o o o
(4,6)->W   (4,0)->E   (4,4)->NE  (1,5)->SE  (4,8)->NW  (2,6)->W   (2,2)->NE
Updated: 2023-01-25
Stylesheets
Extensible Stylesheet Language Templates are computer programs for doing assorted cool things with data stored in XML.
Splits out individual tracks from a TCX file exported from Garmin Training Center and a GPS unit. Intended for use in conjunction with tcx2kml.xsl. An alternate solution involving csplit that potentially makes more efficient use of memory can be found here, along with a discussion of the problem.
Firmware
A branch of tmk_keyboard that implements a series of fun "remixes" for mice, trackballs and MIDI controllers.
Posted: 2019-04-08
---
Holiday Cards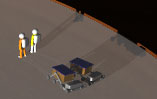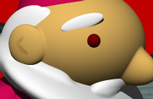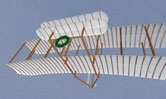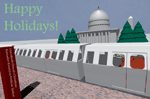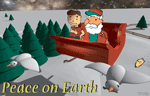 ---
Various
My list of incongruities in the Wizard of Oz.
Updated: 2006-04-19
To this day, the Jasow dropping mechanism remains my single contribution to the world of robotics.
---
Family & Friends

Shani Warner ♥
Updated: 2011-04-21T00:08:00-05.00
Robert Fleegler
Posted: 2011-04-21T00:07:30-05.00
---
Obligatory Random Links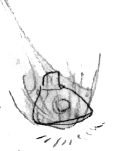 ---
Copyright 2008 by Dave Horlick